Opening of a COVID-19 refuge in Jouy-en-Josas (Paris region)
In the morning of the 3rd of April 2020, the prefect Jean-Jacques Brot (experienced in welcoming people in difficulty), accompanied by the Franch law-maker Jean-Noël Barrot and the deputy-mayor Marie-Hélène Aubert, opened the temporary accommodation center for homeless people with, or likely to have, the Corona virus. As a reminder, JJ Brot prefect had ordered the requisition of the site, located in the lower lands of Jouy-en-Josas.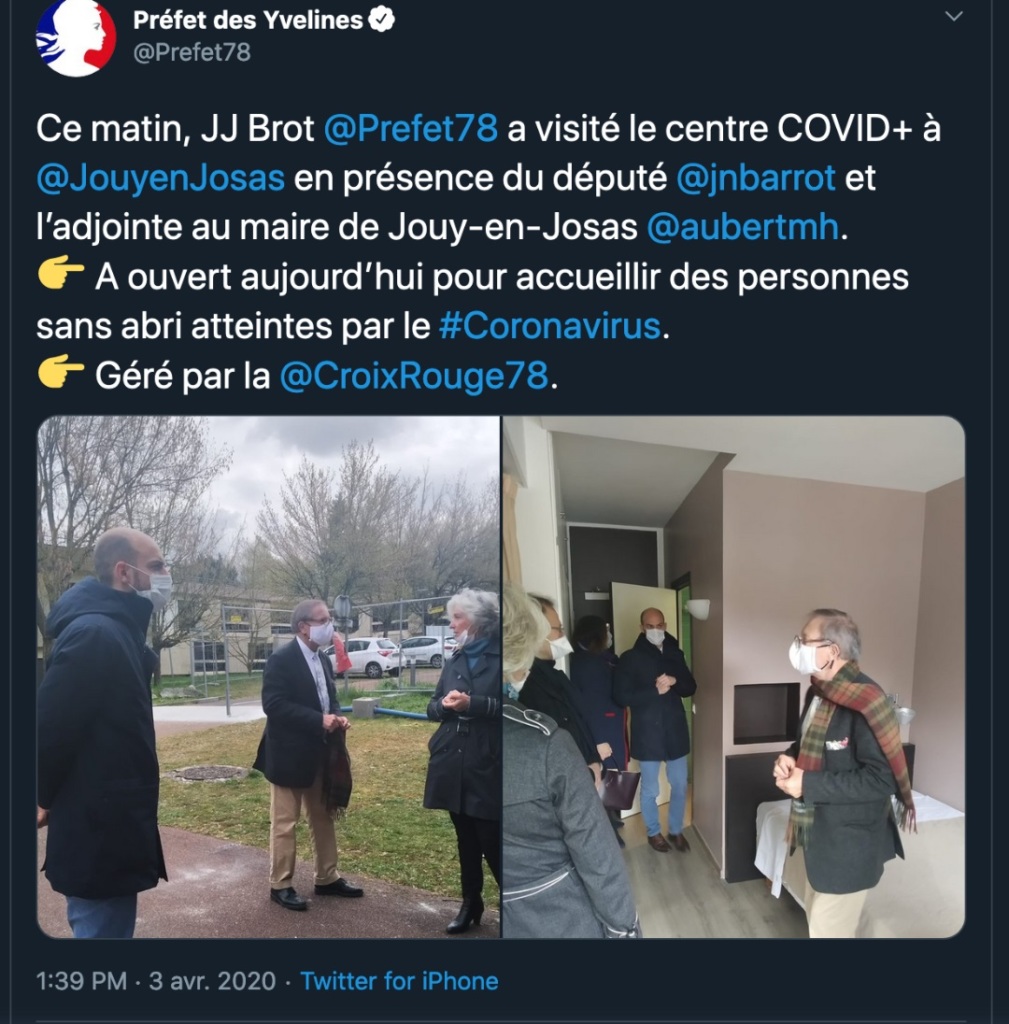 This center, which is to accommodate around fifty residents until May 31, 2020, will be managed by the Red Cross, which has both statutes of association and non-profit social enterprise. This accommodation is located on the former site of the Thalès company which will be transformed into accommodation for HEC Business School students, at the next academic year.
Marie-Hélène Aubert, who largely won the controversial municipal election in March [1]CONTRIB'CITY, Le Président, le Maire et le carnaval, March 24, 2020. Available at: https://contrib.city/wp -admin / post.php? post = 2443 & action = edit & classic-editor, and currently deputy mayor for social issues, informed the inhabitants that this measure will prevent people from being affected and from being able to diffuse the virus around them.
The municipal opposition, Un Avenir Pour Jouy (A Future For Jouy), in the person of its leader Grégoire Ekmedje, proposed to create a tripartite monitoring committee: the current majority, the opposition and an outside person. The last of these three points remains difficult, for lack of volunteers.
A local doctor, interviewed by Contrib'City, informed us that the proper attire in a building receiving Covid-19 sick people was the same as in an surgery room: a (good standard) mask, a charlotte, a blouse and overshoes. Hopefully these measures to control the spread of Corona will be well respected.
For all practical purposes, CC recalls that the Bas-Prés site is liable to flooding.