The two Faces Of Verbier Ski Resort (Switzerland)
When I am arriving, by car, at Le Châble (altitude: 850 m), the village giving access to the ski resort (located at 1500 m), the first things I am seing are many cars parked in a rather wild way with a clear message: dear motorist, park as soon as you can before you find yourself at the other end of the valley! Pain lost, no space available, unless you hang your vehicle on a climbing piton. So, by force of circumstances, I am continuing my journey and once the village is passed, I am wondering with anxiety if I will not be forced to continue up to the Mauvoisin dam, at the end of the road, before I can do a U turn. Two or three kilometers further, a relief: a huge sign, in front of the Châbles chairlift building, indicates that there are parking lots where one can leave one's car. But why doesn't the Ski Resort put a sign at the beginning of the Dranse de Bagnes River Valley, just after Sembrancher, to inform drivers that they will be able to peacefully park a little further?
Once there, the ski equipment rental services are efficient but the waiting time to buy a ski pass, on this Monday, December 30th, 2019, tests the customer's patience. In short, an hour and a half later, here I am on the Mont-Gelé where the sun and the snow offer me a nice ballet of lights: beauty and happiness.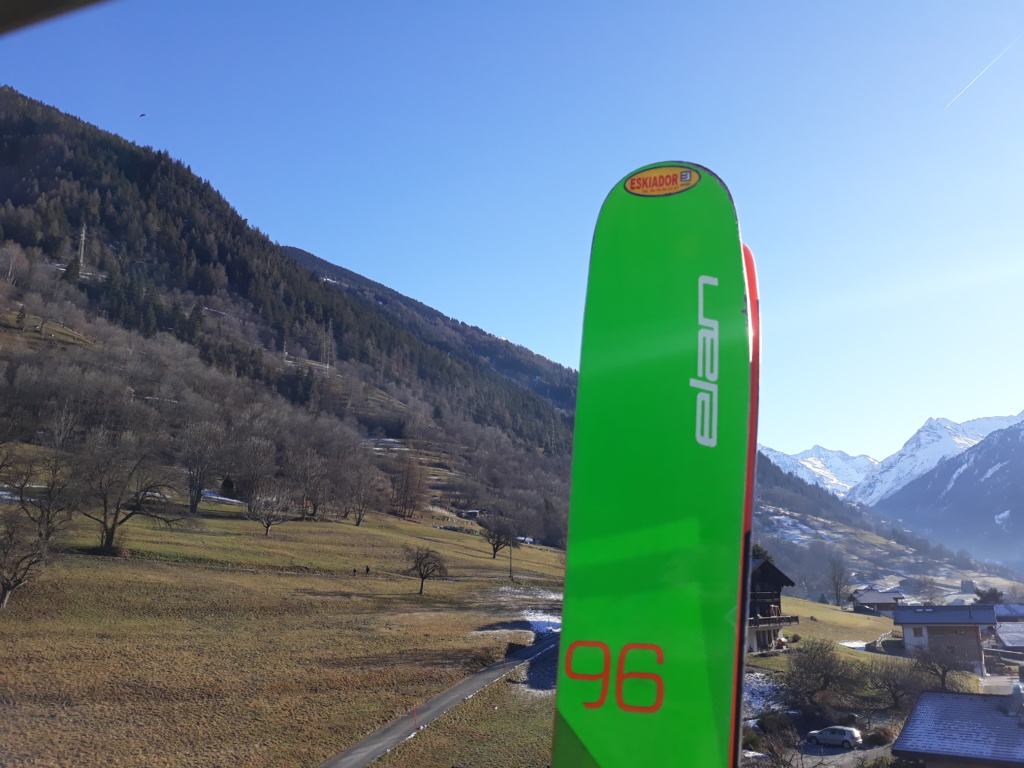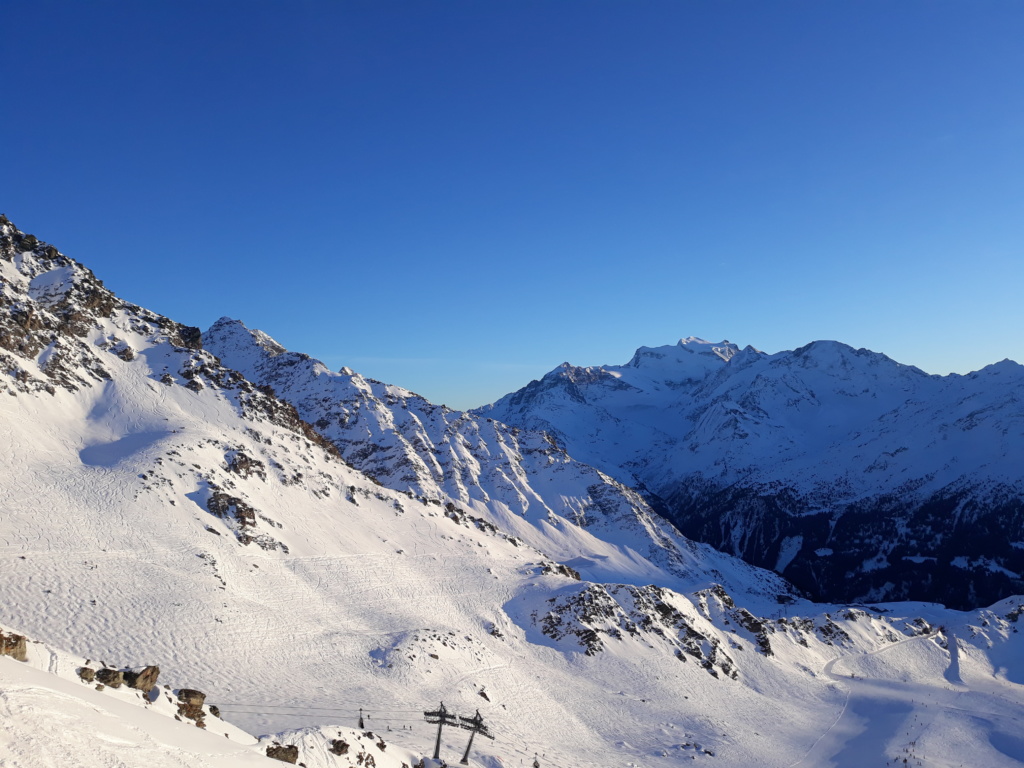 After a day in paradise, begins the return. First, a passage in a place I call "the Freezer", at the bottom of a valley, with direct sunshine, at the time of the winter solstice, of four hours maximum per day. Whichever side you choose, count thirty minutes in the queue, unless you choose the mountain "restaurant": but there, both your (French) wallet and your palate will suffer. Count twenty-five Swiss francs (24 euros) for a hamburger/fries, both very fatty, and a candy bar. Once weighed down, if you hope that the queue has decreased, you will, once again, be at your expense since at around 3:00 p.m. it is not the queue that has declined, but the temperature! On the positive side, you immediately start burning calories to compensate for all the fats and sugars you have just absorbed.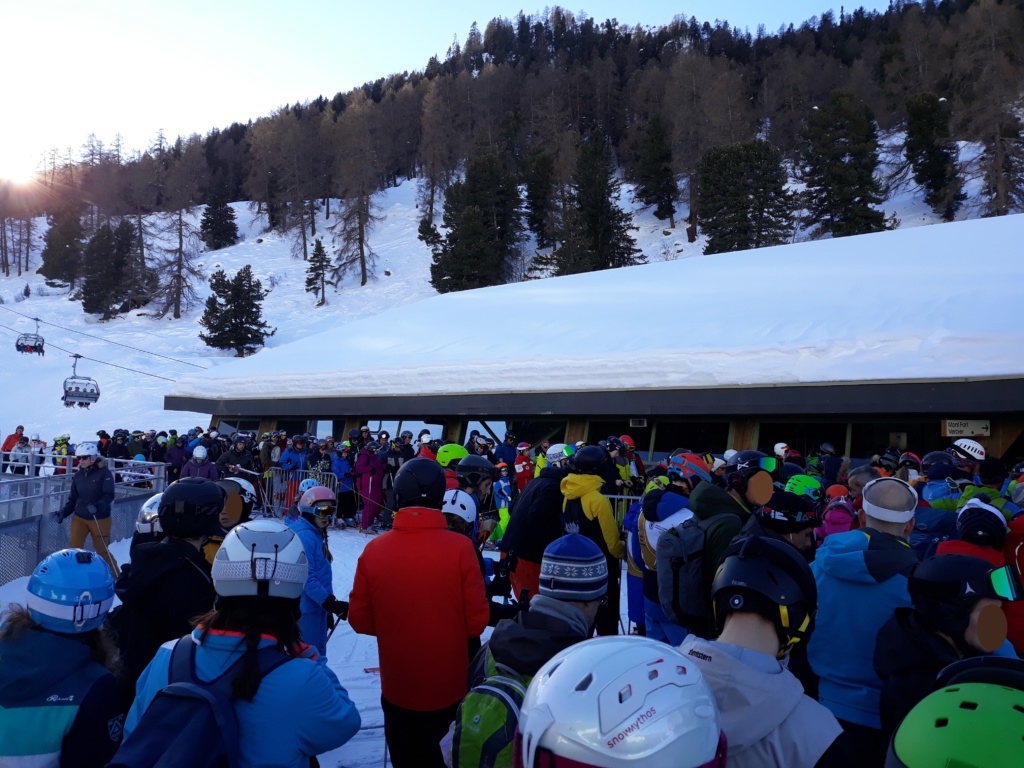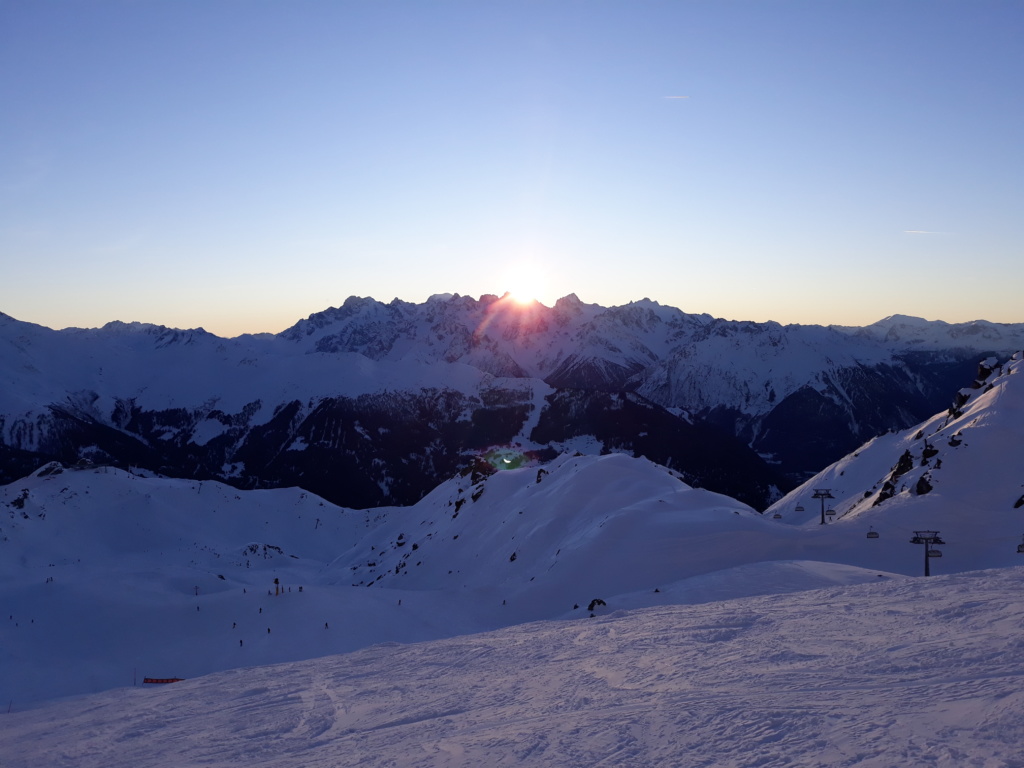 Once you have contemplated, for the last time, the Valais landscape from Attelas or La Chaux, you have to leave Eden, especially since Lord Sun is starting to bow out. So I am starting the descent towards the plain, not to say towards "hell"! If the Médran cable cars provide transport to Verbier fairly correctly, it is the one that descends to Le Châble village that represents a real obstacle course! First, you have to take an elevator and therefore take a queue, then agree to be compressed as it is forbidden to do for farm animals, then participate in a real rugby scrum to reach, after half an hour of compression, a cabin going to Le Châble.
Finally, once you are arrived, at night, you will notice that your marks taken during the day have been slightly modified after dark, and you will no longer find your car. But, at least, the next time, if there is one, you will remember the half hour you spent on finding your vehicle and remember to write down where your dear automobile is located. Unless, of course, you are going up to the station with your own car. In this case, you will not be compressed but this option may bring you into big traffic-jams and will do little to limit pollution and CO2 emissions in the valley.
The explanation for this hustle and bustle, apart from the fact that it is a school holiday period, probably lies in the fact that the Verbier ski lifts belong to a predominantly private company, Téléverbier, yet the most important ski lift company in Romande Switzerland, according to the president of its Board of Directors, Jean-Albert Ferrez [1]Téléverbier, Société leader du domaines des 4 Vallées (Téléverbier, Leading Company in The 4 Vallées Area, 2020, [seen on February 19, 2020]. Available at: http://www.televerbier.ch/en/Téléverbier/entreprise.html. With an objective of financial profitability due to its shareholding structure, Téléverbier seems to make the most of its equipment, which therefore becomes too limited to absorb peaks in traffic without creating long queues. However, these facilities, and the personnel who maintain them, do not only play a role in leisure organisation but also participate in the revitalization of an entire valley, in partnership with the other ski-resorts of the Quatre-Vallées [2]Téléverbier manages the ski lifts of La Tzoumaz, de Bruson and Mont-Fort. Thus, a partnership with the canton[3]A Swiss canton is grossly the equivalent of an English county of Valais, and not only the city of Bagnes [4]Today, the only public shareholder is the city of Bagnes which, with a quarter of the shares, is the second shareholder of the ski lift company. Sources: ZONEBOURSE, Téléverbier (TVRB), February 19th, 2020. Available at: https://www.zonebourse.com/TELEVERBIER-5405/societe/, would allow the village not only to smooth the heights of traffic thanks to lifts that would certainly become oversized during off-peak periods, but also contribute to a cleaner mountain environment that emits fewer greenhouse gases that are little compatible with fair snowing. In this regard, at a time when one ubiquitously talks about global warming, it remains strange that Verbier is still sponsored by a German car manufacturer known for its big engines and its urban four-wheel drives[5]Even if the number of new electric vehicles increased sharply in relative numbers (between 2018 and 2019: + 50% in France and + 150% in Switzerland), the fact remains that this market only represented 2% of French sales and 5% of Swiss sales. Sources: AUTOMOBILES PROPRES (Clean Automobiles), Ventes de voitures électriques en France en 2019 (Electric Cars Sales in France in 2019), January 16th, 2020, [Read on February 19th, 2020]. Available at : https://www.automobile-propre.com/dossiers/chiffres-vente-immatriculations-france/#Ventes_de_voitures_electriques_en_France_en_2019 . Read also: RTS, En Suisse, les voitures électriques connaissent une forte croissance (In Switzerland, Electric Cars Sales Jump), January 31st, 2020, [Read on February 19th, 2020]. Available at : https://www.rts.ch/info/suisse/11057913-en-suisse-les-voitures-electriques-connaissent-une-forte-croissance.html.
By making it easier to access to the ski resort via gondolas capable of absorbing mass arrivals of customers, Verbier would encourage skiers to use public transport. But as a chain is only strong by its weakest link, this hotspot can discourage tourists from coming by train, especially if they have luggage and if they know that they will then be trapped in long queues, at the beginning or at the end of the day, in the bottom of the Val de Bagnes.
Added bibliography: [6]4 Vallées Mont-Fort 3330, [Read on February 19th, 2020]. Available at : https://infosnow.ch/~apgmontagne/?id=45&lang=fr&tab=map-wi&sat=&tv= [7]4 Vallées Mont-Fort 3330 Verbier, [Read on February 19th, 2020]. Available at : http://www.verbier.ch/fr/carte-station.htm [8]Mont-Blanc Natural Resort, [Read on February 19th, 2020]. Available at : https://www.skiinfo.fr/valais/verbier/station-de-ski.html [9]Verbier 4 Vallées, [Read on February 19th, 2020]. Available at : https://www.remontees-mecaniques.net/bdd/station-verbier-34.html [10]Nendaz Veysonaz remontées mécaniques, [Read on February 19th, 2020]. Available at : https://www.nvrm.ch/fr/actionnaires/informations/informations-actionnaires.htm [11]Val de Bagnes, [Read on February 19th, 2020]. Available at : http://www.valdebagnes.ch/
[mapsmarker marker="17″]